At INDUSTRIAL RADIATORS, we have the expertise to tackle any radiator. If it's a CAT 789, a Cummins KTA50 or a Komatsu 575 superdozer, we can do them all.
CAT panel modular or amocs sections can be stripped down, rodded out, resoldered and reassembled.
We are good old fashioned radiator repairers and often salvage radiators condemed by other repairers.
The range of applications and diverse environments that our radiators that radiators work in require a wide variety of radiator core patterns.
We can supply radiator cores in a variety of materials ie. copper, steel or
brass to suit markets for mining, agricultural,  heavy transport, rail and power generation, etc.
We offer many popular radiators from stock including heavy duty brass tanked radiators to replace common plastic tanked truck radiators.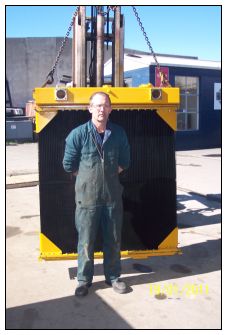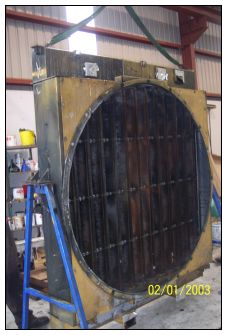 CAT 785 Radiator – before